Arab Unity School aims to provide a stimulating learning environment that challenges our students into discovering their potential and mould them into respectful, reliable and purposeful leaders of the global community.​​

To provide an affordable education with a strong foundation of knowledge, technology and life skills enabling our students to evolve into socially conscious and responsible individuals.

Arab Unity School follows the National Curriculum of England, eventually preparing students for Cambridge IGCSE in Year 11 and A Levels in Years 12 and 13. We enrich our curriculum with UAE specific subjects which enhance students' holistic development and their knowledge of local and global issues.
A very warm welcome to the Arab Unity School, an institution founded on 2nd October 1974 by my parents Mr Abdul Hussain Taher and Mrs Zainab A Taher, with the noble motive to provide an affordable education to each individual in our care. This mission has been carried forward for more than four decades of successful growth. Our students emerge as respectful, reliable, resilient global citizens, prepared to be leaders in our competitive and rapidly changing society.
A balanced approach towards teaching and learning, which continually evolves to meet both modern demands and the guidelines of the DSIB (Dubai School Inspection Bureau), enables our students to evolve into socially conscious and morally responsible individuals. Students at Arab Unity School are moulded using a perfect blend of humanistic global values, integrated life skills and ultra-modern technology.Throughout their educational journey, students are encouraged to respond to challenges with enthusiasm and self-belief.We are ambitious for our students!
Every student is seen as an individual and educated and nurtured with age-appropriate needs, be they the toddlers of early years learning their initial life lessons in a lively and homely atmosphere; the middle year learners who are prepared for, and participate in, school and outside challenges and competitions; the secondary school students who benefit from experienced hands to be well prepared for Board and other international exams; or the sixth form scholars who are guided and supported to pursue the perfect career choices.
The School's accomplishments are realised through the wise ideas and policies of the Principal and Vice-Principal, the able hands and co-ordination of the Senior Leadership Team, the sound subject knowledge and dedication of the teaching staff, the organisation and commitment of the administrative staff, the hard work and dutifulness of the ancillary staff and the constant support and faith of our parents.
Looking at our progress over the years, I am confident in assuring you that Arab Unity School will continue to both maintain and enhance its prestige as one of the pioneers in the educational sphere in Dubai. The School's vision, mission and strategic goals will always be carried forward on the path of its continuous progress.
Ms Arwa A. Taher
Executive Director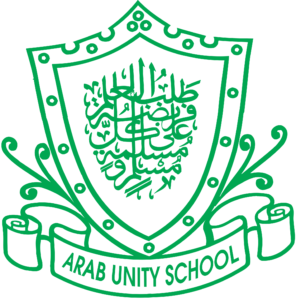 Quality education for everyone!
That is what we strive towards every day here in Arab Unity School, Dubai. If you desire quality, affordable education in a trusted British Curriculum environment, Arab Unity is the place for you.
We appreciate that our children are all unique individuals with different talents and dreams. In Arab Unity, it is a pleasure to observe how teachers and parents work together to ensure our students cultivate a love for learning in an ethos of mutual respect. The school's enthusiastic teachers, functional facilities and relevant resources promote a safe and secure learning environment where students have the confidence to take risks in their learning experiences. Our students hold their own against the best in the world in the internationally recognised IGCSE, AS and AL examinations with the support of very experienced and dedicated teachers.
Our students are encouraged to collaborate and communicate effectively and explore the value of working in a team. They are consistently challenged to think critically and produce work that is creative and carefully presented with confidence and flair.
A high value is placed on continuously improving life skills outside the classroom to develop well-rounded young adults who can confidently perform in a competitive environment outside school and eventually the workplace. Our students' athletic abilities are developed and refined on well-maintained sports fields where frequent sports competitions are organized by committed coaches. The impressive Taher Hall plays a very important role in improving skills and confidence in public speaking and the performing arts. Multiple science labs, IT suites, art areas, music rooms and well-resourced libraries provide further opportunities for growth for all our students – from our little ones in the foundation stage to our 6th formers.
It is our passion and privilege to support and guide your child to reach his/her full potential and enjoy the learning journey every step of the way. Feel free to contact the school if you can't find the information you need on our website

ACCOUNTABILITY – We recognize that having the freedom to express ourselves means that we must also accept responsibility for our words, actions and attitudes.
COMPASSION – We care for those who are in difficulty and who are hurting, recognizing that the world does not exist for us alone.
CO-OPERATION – We work together with others when set a common goal, and we are humble when we lead, and supportive when others are in charge.
FAIRNESS – We treat people equally, without favouritism or discrimination.
HONESTY – We tell the truth and refuse to mislead or deceive others.
JUSTICE – We recognize the importance of rules and regulations to create a fair society, and we pursue what is right and stand up against what is wrong.
PERSEVERANCE – We are determined to keep going through whatever struggles we face, and to strive for our personal best in spite of difficulty or opposition.
TOLERANCE AND RESPECT – We accept the rights of others to hold opinions which may not be the same as our own, treating them as we would wish to be treated ourselves.
To make an enquiry or get a school tour, please fill out the form.