Sixth Form at Arab Unity School provides great opportunities for students to move forward in the way they learn, take up new challenges and look to the future. The combination of teaching, personal support and mentoring and encouragement to work collaboratively develop academic success as well as respect and tolerance for peers within a multicultural learning environment. In preparation for study beyond their school years, we cultivate students' self-reliance and the ability to self-manage their own studies.
AUS Sixth Form provides a wide range of subject options and a faculty that continues the positive ethos to foster positive personal and social development, inspires students to aim high, provides them with a broad understanding of the world as well as supporting their proficiency in research and presentation skills. This makes AUS Sixth Form students well prepared for their examinations and a successful career ahead.
A full time Career Counsellor is on hand to support students in securing the best further education options based on their qualifications and career aspirations. Help and advice is given on various university requirements and the application process, (UCAS).

In developing students holistically and prepare them for successful lives beyond school, we provide opportunities for community service both inside and outside the school. Students are encouraged to take up leadership roles whenever possible and to participate in voluntary activities, inter-school competitions as well as Model United Nations events. The school liaises with universities in the UAE to provide opportunities to attend workshops related to specific subjects and with external organisations to provide internships to students.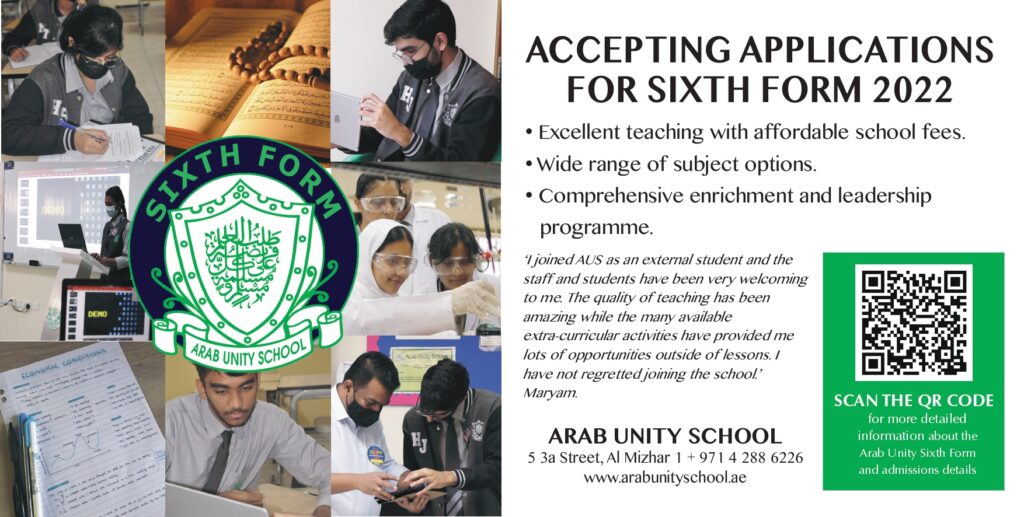 ENQUIRE NOW
Fill out the form and our parent liaison officer will be in touch...