Overview
CURRICULUM
Introduction
Arab Unity School provides a British-style education based upon the framework of the National Curriculum for England.   Our holistic approach to education fosters respect, tolerance and understanding and encourages each child to develop the knowledge, skills and aptitudes that will allow them to adapt and succeed in a world which is rapidly changing.
The school offers a secure and safe environment where children gain skills in academic, social and aesthetic fields.  We emphasise the development of the individual but also encourage students to see themselves as valued and productive members of our school and the wider community.
Across all phases of the school, we enrich our curriculum by way of: 
Educational visits which support and extend in-class study;
Community involvement where we can access expertise to enhance students' experiences, visiting speakers, Dubai Police, participation in community events and initiatives. 
| | | |
| --- | --- | --- |
| Key Stages | Chronological Ages | Years |
| Early Years Foundation Stage (EYFS) | 3 – 4 | Foundation One and Two *(FS1/FS2) |
| Key Stage 1 (KS1) | 5 – 7 | Years 1 and 2 |
| Key Stage 2 (KS2) | 7 – 11 | Years 3 – 6 |
| Key Stage 3 (KS3) | 11 – 14 | Years 7 – 9 |
| Key Stage 4 (KS4) | 14 – 16 | Years 10 – 11 |
| Key stage 5 (KS5) | 17 – 18 | Years 12 – 13 |
At AUS we currently offer places from Foundation Stage Two.
As we follow the English National Curriculum at AUS, our programmes of study lead towards the statutory associated English National Curriculum assessments.  Therefore, in primary we use Year 1 Phonics and Year 6 SATs and in secondary, IGCSE (Cambridge) and A Level.
UAE Compulsory Subjects
All students from Year 1 learn Arabic language and Muslim children follow a course of study in Islamic Education.  Both of these subjects are taught in Arabic to children for whom this is their first language (as directed by UAE regulations) and in English for all other students.   In each subject, we follow the guidelines set out by the Ministry of Education.  Arabic and Islamic Education are compulsory as follows:
Arabic A – First Language:       Year 1 – Year 12
Arabic B – Second Language: Year 1 – Year 9  (Currently offered to Year 12)
Islamic Studies A  – taught in Arabic:  Year 1 – Year 12
Islamic Studies B – taught in English: Year 1 – Year 12
UAE Social Studies is taught from Y2 – Y10 and the Moral Education Programme fromY2 – Y13, again as per statutory regulations.  These subjects seek to inform children about the context in which they live in the UAE, focusing on elements of local culture, local and global issues, the development of the UAE and the multicultural nature of society.  This supports children in their growth as global citizens.  Moral Education, in particular, also helps to support the development of children's ethics and values and prepares them to be successful citizens in today's multicultural, global society.  
UAE Social Studies
UAE Social Studies Curriculum
UAE Social Studies is a compulsory subject for all students in Year 2 – Year 10. The aim is to provide students with in-depth knowledge, skills and understanding of history, geography and civics, which emphasise the links and relationships between diverse groups, people, science and society. Students will contribute, as responsible citizens and residents of the UAE, to the building of a strong, cohesive and successful society that is inclusive of all, while preserving the UAE culture, heritage and traditions.
The main curricular themes are:
Emirati History
Emirati Significant People
Emirati Geography
My Community
Culture and Heritage
 UAE and the World
The Programme will help students gain a deeper appreciation of the context in which they live here in the UAE and also a wider, global understanding.
Moral Education
Moral Education Curriculum
Success in practical life is not limited to acquiring knowledge and academic achievement. It is also based on helping students to have balanced characters built on ethics, knowledge and culture, with the values of justice, tolerance and noble actions at their core.
                                                                                                                                                                  Ministry of Education
The Moral Education Programme (MEP) is compulsory for all students in Year 2 – Year 13.  It was introduced by the UAE Government to ensure students are knowledgeable about their context within the UAE and to foster core skills and values in each individual to support their development into young adults  able to confidently and effectively take their place in a modern and multicultural society. It aims to:
Sustain the UAE's success as a tolerant, open and respectful society
Educate students on, and preserve the UAE's, traditions, heritage, culture, values and morality
Develop in our young people the personal qualities required to coexist in the multicultural context of the UAE and globally, wherever their future takes them
Prepare students to be able to make morally sound decisions
Prepare the next generation to be responsible and resilient citizens, knowledgeable about their rights and responsibilities, who can contribute to their communities and to the nation
These aims are developed in the teaching programme through four main areas (or pillars) of learning and study: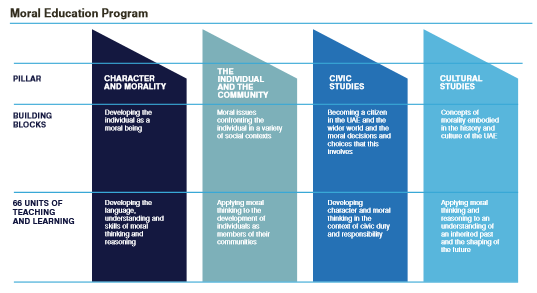 The four pillars are linked to each other, with building moral thinking and character forming the basis of the programme. Critical thinking, learning and communication skills are also developed through the programme which will support students in all aspects of their education, in school and beyond.


Parental Involvement


In supporting our students to become young adults who are equipped with the skills to succeed in today's modern and multicultural world, it is essential to work with parents. We ask that you engage with the pillars and content of the Moral Education Programme and discuss school lessons and topics with your child and take an active interest in homework activities set.


Further information can be found at: www.moraleducation.ae
Foundation Stage
Early Years Foundation Stage
The Early Years Foundation Stage Framework (EYFS) sets the standards that all early years providers must meet to ensure that children learn and develop well and are kept healthy and safe.  It promotes teaching and learning to ensure children's 'school readiness' and gives children the broad range of knowledge and skills that provide the right foundation for good future progress through school and life.
EYFS Framework, September 2014
At Arab Unity School, we understand that early experiences can have a crucial impact on future successful learning.  We, therefore, provide a safe and secure environment which supports children in learning and developing at a pace tailored to different needs.   We follow the EYFS Framework for teaching and assessment.  This is the statutory curriculum for English Early Years providers.
Learning experiences are planned based on three key principles which stimulate the child's natural curiosity and promote effective learning:
Playing and exploring
Active learning
Creating and thinking critically.
At AUS, children begin their learning journey in Foundation Stage 2.  Throughout this FS year, children progress through a programme of skills and knowledge development culminating in the Early Learning Goals, (ELGs).  This programme is a British Early Years curriculum which emphasises learning though play and exploration, active learning and creating and thinking critically.  Learning is organised under seven key subjects, grouped under two headings:
Prime areas – lay the foundations for children's success in all other areas of learning and life.
Communication and Language
Personal, Social and Emotional Development.
Physical Development
Specific areas – provide the range of experiences and opportunities for children to broaden their knowledge and skills.
Literacy
Mathematics
Understanding the World
Expressive Arts and Design
Progress is tracked continually through 'Development Matters' ( https://www.early-education.org.uk/development-matters ).  This document is aligned with the statutory curriculum and outlines the key developmental milestones that young children should achieve across each of the key areas of learning within defined age bands from birth to five.
Children's learning and development will be most successful when parents and teachers work together. We, therefore, offer you, as a parent, a regular means of communicating with your child's teacher as well as providing information on how you can effectively support your child's learning.
Primary
Primary
When children begin Primary, they commence the British National Curriculum for Year 1.  This is a broad and balanced curriculum which is enhanced by UAE compulsory subjects of Arabic, Islamic Education, (for Muslim students), UAE Social Studies and Moral Education. Our holistic approach means that much of our curriculum is taught linked to a theme, with discrete subject lessons where appropriate. This helps provide useful and enjoyable contexts for learning, allowing children to make connections across different areas of study.
To ensure this broad education in the primary years, subjects covered develop academic, aesthetic and personal attributes.  These include the four UAE compulsory subjects plus English, Mathematics, Science, Geography, History, Art, Computing, Music and PE. Specialist teachers deliver Arabic, Islamic Education, Computing, Music and PE.  Arabic language and Islamic Education are taught in Primary from Year 1 to Year 6; UAE Social Studies and Moral Education (MEP) are taught from Year 2 to Year 6.
To ensure we offer our students the most relevant curriculum to meet their needs, Urdu is an optional subject available from Year 4 onwards.  Students who do not study Urdu are offered English Literature lessons.
UAE Social Studies and MEP are integrated into our topics to make learning meaningful and connected to other subjects.  Both subjects aim to give children a sense of their own personal development and values as an individual and also knowledge and understanding of their local context within the UAE and, as they progress through Primary, an increasing awareness of wider, global perspectives.   These subjects are also linked to our History and Geography curricula.  We use the umbrella term Perspectives for these four subjects.  This thematic delivery provides continuity of approach through to Secondary.
We encourage our children to see learning as a life-long venture and help support them in developing some key skills to help them become independent and successful learners.  This is delivered through the 'SECRET' initiative which introduces and develops skills such as being self-managers and effective participants: the S and E!
Secondary School
Secondary School
As students progress through to our Secondary section, internal liaison arrangements make this transition smooth.
We continue to follow the National Curriculum of England, supplemented by the UAE compulsory subjects of Arabic, Islamic Education, (for Muslim students), UAE Social Studies and Moral Education in the year groups directed by Dubai/UAE regulations.   The curriculum is broad and balanced for students of all abilities and nationalities.
In English and Mathematics, students are taught in ability sets, which allows us to adapt the curriculum and provide more appropriate additional support for differing ability levels.  The adaptations are still conceptually and thematically linked across sets so that all students study the required content but at an appropriate level of depth.
Students at Key Stage 3 study General Science in Years 7 to 9 which includes elements of Chemistry, Biology and Physics and then compulsory Physics and Biology in Years 10 and 11 as discrete subjects.
The two core compulsory subjects of UAE Social Studies and Moral Education are studied as a part of the Perspectives umbrella, along with History and Geography. This combination allows students to consider these significant subjects within a more global context and provides a platform for the Global Perspectives IGCSE option in Year 10.
Students in all years have a class pastoral period during which assemblies are held.  Assemblies cover moral issues, reading and study skills, to name a few. This class time also gives a regular opportunity for class teachers to monitor individual pupil progress and aid them in target setting for subjects across the whole curriculum.
Click here for Y7 – 9 subject options
Click here for Y10 – 11 subject options
Sixth Form (Year 12-13 )
Sixth Form  (Year 12-13 )
Sixth Form at Arab Unity School provides great opportunities for students to move forward in the way they learn, take up new challenges and look to the future. The combination of teaching, personal support and mentoring and encouragement to work collaboratively develop academic success as well as respect and tolerance for peers within a multicultural learning environment.   In preparation for study beyond their school years, we cultivate students' self-reliance and the ability to self-manage their own studies.
AUS Sixth Form provides a wide range of subject options and a faculty that continues the positive ethos to foster positive personal and social development, inspires students to aim high, provides them with a broad understanding of the world as well as supporting their proficiency in research and presentation skills.  This makes AUS Sixth Form students well prepared for their examinations and a successful career ahead.
A full time Career Counsellor is on hand to support students in securing the best further education options based on their qualifications and career aspirations.   Help and advice is given on various university requirements and the application process, (UCAS).
In developing students holistically and prepare them for successful lives beyond school, we provide opportunities for community service both inside and outside the school.  Students are encouraged to take up leadership roles whenever possible and to participate in voluntary activities, inter-school competitions as well as Model United Nations events.  The school liaises with universities in the UAE to provide opportunities to attend workshops related to specific subjects and with external organisations to provide internships to students.
Click here for Sixth Form subject options
Islamic Education
Islamic Education
At AUS we have a strong ethos based on Islamic values and this underpins our Islamic Education programme for Muslim students which aims to ensure learning is meaningful and relevant and prepares them to contribute successfully to both Muslim and multicultural environments.  In addition, though our wider curriculum, we aim to ensure that all of our children develop a general awareness of Islamic traditions, values and culture so as to better understand the context in which they live in Dubai.
We follow the Ministry of Education approved curriculum for Islamic Education for all of our Muslim students from Year 1 onwards.   Islamic A is for students whose native tongue is Arabic and is, therefore, taught in the Arabic language.  Islamic B is taught to all other Muslim students and is delivered in English.
The curriculum is organised under six main themes as per the Ministry curriculum: Divine Revelation, Islamic Beliefs, Islamic Ruling and Aims, Islamic Values and Manners, Biographies, Identity and Contemporary Issues.   Included throughout the syllabus are: in the lower years, short Surahs, Hadeeth, Du'aa', personal attitudes, environmental issues and socializing skills; in later years, longer Surahs with interpretation, (Tafseer) and Islamic history and culture to expand the breadth of study.   In order to improve recitation skills, we provide a specific session for this purpose.
Learning is enriched through systems developed in school and through extra-curricular activities. We have established an Islamic Student Council for example.  Representatives act as ambassadors for their Faith, eg by supporting Islamic values and traditions across the school as well as helping run extra-curricular projects and competitions for students.
We provide a strong Islamic Education curriculum which supports our Muslim students in realizing their educational and personal goals in relation to Islamic teachings and to develop their Faith as a way of life.   This will equip them to lead successful professional and personal lives, becoming positive and active contributors to society.
Special Educational Needs
Special Educational Needs
Children may develop needs which require learning support at any time and stage in school. They may be cognitive, physical or emotional. At Arab Unity School Learning Support Department works closely with our pastoral care and tutorial staff to identify any needs at an early stage, and provides the support that will enable each child to thrive and flourish within the curriculum.
Teachers trained in Special Educational Needs will work with children within the school. Where appropriate, parents may be referred to external agencies for further support.
As an international school we expect that some of our children will speak English as an additional language, many will be bilingual and some will join us understanding and speaking very little English. At Arab Unity School, we celebrate this diversity, ensuring that, with support from our trained English Language team, all of our children will be able to fully access our curriculum, which is taught inEnglish.
Languages
Languages
Arabic Language
Research has shown that learning any language is beneficial to our overall development as effective learners as well as being a key skill in itself in an increasingly multicultural world. Living in Dubai, Arabic, in particular, also helps children appreciate the richness and diversity of the Emirati culture in which we live. Arabic language is, therefore, an important subject in our curriculum, delivered by our team of Arabic teachers to all children from Year 1.
Learning Arabic is compulsory for all students in the UAE and it presents a new and exciting challenge. Lessons are planned to develop the four language skills of reading, writing, listening and speaking.
We teach the curriculum as directed by The Ministry of Education. Most students follow the programme for Arabic B which is for non-native speakers. Students who are first language Arabic speakers (as per Ministry of Education guidelines) follow the programme for Arabic A. This is a separate curriculum taught completely in Arabic to ensure the children develop the correct skills in their native language.
Arabic B is compulsory until Year 9. However, we know that many of our students wish to continue their Arabic studies and so we teach Arabic B until Year 12. We continue to offer Arabic A to native speakers up to Y12 as per UAE requirements.
Urdu
At Arab Unity School, we aim to deliver a curriculum which is flexible and which meets the needs of our students. Urdu is the native language of many of our students. Therefore, we offer Urdu as an option from Year 4 through to IGCSE which is delivered by specialist teachers. This gives students the opportunity to gain an IGCSE in their first language and also ensures that they have the necessary qualifications to gain entry to universities in their home countries.
Sport
Sport
At Arab Unity School, sport and physical exercise form an important part of the curriculum, with lessons delivered by specialist PE teachers.
We have a range of sporting facilities on site, including indoor PE facilities, a multi-purpose outdoor sports field, which can be adapted for various events, and basketball courts.  We offer a wide range of sports as part of our curriculum in order to encourage our students to try out a variety of activities to help them find something which suits their talents, for example football, basketball, cricket, badminton, volleyball, track events.
To further promote sport, we run weekend 'House' competitions, where students in Year 5 – 13 can compete in a range of events and win important points to add to their overall House totals.  These are added up over the year and contribute to the final House Points winner.